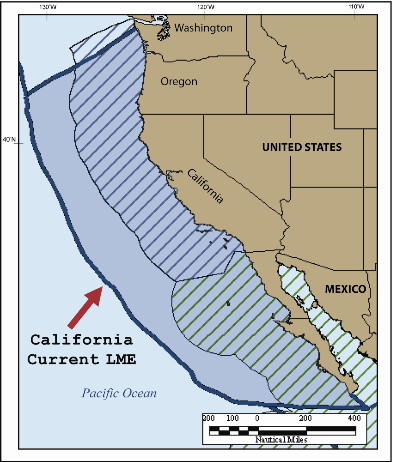 Welcome to CCLME.org
Library of California Current Large Marine Ecosystem Law and Regulation.
Free to use
Customizable Searching
State Laws from Washington, Oregon and California.
Federal Laws from the United States and Mexico.
---
Browse all of the documents in the collection:
Codified statutes and regulations are included in this collection; representing governmental level management within the scope of the California Current LME.
---
Features
Use the Agency Graph to Compare documents and agencies as they relate to your search.
Updates
07/08/2009
Over the past few months, we've been wrapping up work on a related project called MINOE. As this project winds down this month, we expect to begin our update of the data set for cclme.org. There should be little downtime, if any.
The biggest challenge, thus far, has been the large inconsistency in which states make laws available to the public. Not only is every state different in the manner in which they make the laws available, but also the format. It's obvious, for example, that Oregon laws were converted to web pages directly from Microsoft Word. This makes it difficult to parse out needed information because the HTML is invalid. Technically the document is a web page, but not a very well formatted one.
What this all this means is that for each jurisdiction a custom algorithm has to be in place that downloads the documents from the web, as well as a custom routine for extracting the information out of those documents. This is not necessarily that difficult, but takes a bit of time. However, expect to see an update from us sometime at the end of summer, if not sooner.
-Dan Spiteri (programmer / web master).
---
03/09/2009
Thank you everyone for the helpful feedback! Please continue to send us your questions, comments or suggestions.
Over the past few weeks we were able to move the site to a new and faster server hosted at Stanford, as well as improve upon the functionality of the site. Returning visitors will notice a different URL structure, so you will need to update your bookmarks. Additionally, you will notice that keywords are now highlighted when viewing documents. Documents are also paginated so that you do not have to wait for the entire file to load before viewing the contents.
Check back soon to view the Oregon data set for the year 2008!
-Dan Spiteri (programmer / web master).